Stratford Hospital to get £20m cancer and eye treatment clinic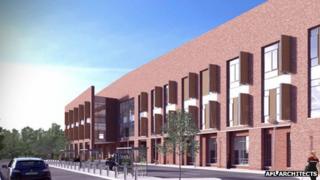 A new £20m clinical centre is to be built at Stratford Hospital.
The clinic, offering cancer treatment and eye-related services, will be built on an existing car park.
The trust said "a number" of clinical and non-clinical jobs will be created.
Jackie Jackson, a patient representative, said: "As cancer and age-related eye problems are growing issues for us all as we get older the development is essential to treat local people as efficiently as possible."
Patients in South Warwickshire currently have to travel to Warwick Hospital for cancer treatment.
The project is being funded by a loan from the Foundation Trust Financing Facility, the trust said.
It is also launching an appeal to raise £1m.
Some existing buildings will be demolished to make way for a new car park for 250 vehicles and a building to power the new facility.
The main hospital building will remain open throughout the work, which could start in November and be finished by October 2016.