Leamington Spa river search after man seen falling from bridge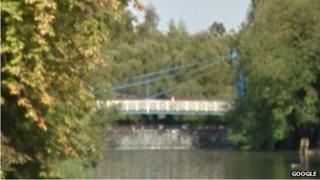 A search is under way for a man who is believed to have fallen into the River Leam in Warwickshire, police said.
Police said the man was seen to fall from the York Road footbridge in Leamington Spa shortly before 21.30 GMT on Saturday.
A search and rescue operation launched by the police and fire service failed to find the man that night.
The search has resumed at first light with assistance from specialist officers, a police spokesman said.