University of Warwick vice-chancellor Nigel Thrift knighted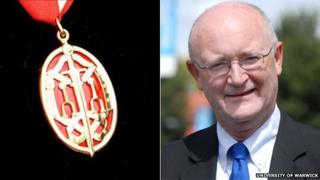 The vice-chancellor of the University of Warwick has been awarded a knighthood in the New Year Honours.
Prof Nigel Thrift has been described by the Royal Geographic Society as one of the world's leading social scientists.
Divisional vice-president of the NSPCC, Valerie Morris, who celebrated her 80th birthday by asking for donations to the charity, has been appointed OBE.
Douglas Faulconbridge, from Kenilworth, is awarded the British Empire Medal for services to Royal Mail.
Prof Thrift, whose knighthood recognises services to higher education, has held posts at the University of Oxford and Bristol University.
His research topics include international finance and the history of time.
Other recipients include librarian Lynda Clapham from Coventry, who was appointed MBE, and professor of pure mathematics at the Open University Gwyneth Stallard, from Leek Wootton, who was appointed OBE, both for services to education.