The Belfry New Year stabbings reports 'malicious'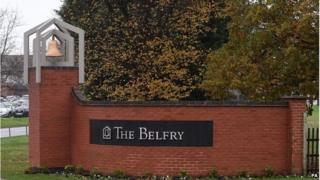 The promoter of a New Year's Eve event at The Belfry resort in which six people were stabbed has branded media reports of the incident "malicious".
In a statement on its Facebook page, Nude Nights said its "Nude Year's Eve" event at the Bel Air nightclub was "hugely successful".
Warwickshire Police said it had made seven arrests and one man remained in hospital following the stabbings.
The Belfry said Nude Nights' statement contained "inaccuracies".
'Sexy and sophisticated'
In its statement, the promoter said: "Whilst we know there was one altercation resulting in one man being stabbed, there is no evidence to suggest some of the other numbers being bandied about are actually factual.
"Last night [we] hosted a hugely successful event where over 1,500 people partied, socialised and saw in the new year.
"Our brand stands for sexy and sophisticated clubbing and has always been tailored for the more sensible and mature clubgoer."
Lynn Hood, The Belfry's general manager, said the Nude Nights statement contained "inaccuracies" and that fewer than 1,000 people had been on the site.
"We are in discussions with Nude Nights about the statement," she said. "It's a police matter and we would not want to jeopardise their investigation."
She said The Belfry had worked successfully with Nude Nights on events in the past.
"This was billed as a high-quality event," she said.
Although the event was billed as "Nude Year's Eve", the hotel said no nudity was involved.
'Not that bothered'
Those who attended the event had different reactions to Nude Nights' statement on Facebook.
Amelia Lucy said: "I've just read the statement and it really shows to me that you're not actually bothered that someone got stabbed.
"Regardless of how many attended and what percentage the incident affected, it's still one too many. You don't sound remorseful in any way shape or form."
Mark Grigg wrote: "The point is one is too many, so kindly don't dilute this situation utilising percentages and rant about how unfair you feel the press/police release is. Please detail what measures you'll be taking to omit this happening again."
But Rachel Busby wrote: "A fantastic night with loved ones, lots of laughter and love to see in the new year. You boys delivered everything you promised. I was completely unaware of any trouble inside the club."
Warwickshire Police said they were aware of the statement and were "in discussion" with the promoters.
Officers confirmed two more men had been arrested on Friday following the stabbings.
A 26-year-old and a 21 year-old, both from the Birmingham area, are being questioned on suspicion of violent disorder.
Two 27-year-old men from Birmingham were arrested on Friday morning, also on suspicion of violent disorder.
Police said one had been released on bail, while the other was still in custody.
Three men arrested on Thursday - aged 26, 22 and 20 and all from Birmingham - have been released on police bail.
One man is continuing to receive treatment in hospital and is in a stable but serious condition, police said.
Two others were discharged on Friday.
'Busy night'
In a statement, the force said it was called to the luxury hotel, in Wishaw, near Sutton Coldfield, at 00:50 GMT on New Year's Day.
When officers arrived they found a 21-year-old man with a stab wound to the chest.
A force spokesman said: "While police were at the scene, further incidents took place, both inside and outside of the nightclub.
"These resulted in a further five people sustaining injuries, believed to be stab wounds."
On its website, the hotel said the Bel Air had recently undergone a £1.2m refurbishment.
The hotel, which has famously hosted golf tournaments such as the Ryder Cup, said its main entrance, which was closed for police investigations, had now reopened.