Chesterton windmill: Petition grows in fight to save 'landmark'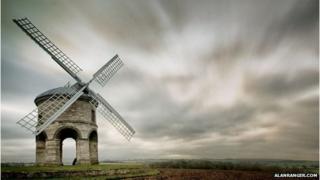 More than 2,000 people have signed a petition to save a Grade I listed "landmark" Warwickshire windmill from development.
Campaigners say 17th Century Chesterton Windmill would be threatened by Stratford-on-Avon District Council's plans to allow the building of 3,000 homes nearby.
The petition has won the backing of rural campaigners and a local MP.
The council said the plans were still being considered.
Peter Reading, a Warwickshire resident who started the petition, said: "The windmill is a jewel of south Warwickshire.
"If these proposals were being talked about for Stonehenge, there would be a national outcry.
"The windmill is part of the environment. If you damage one, you damage the other."
He called on the government to consider "all options" to protect the mill.
Blowing in the wind
The design of the 1630s mill is attributed to famous architect Inigo Jones, although it is more likely one of his pupils worked on it
It was abandoned in the 1900s but was restored in the 1970s
Although privately owned, it is occasionally open to the public
John Wharam, from the Campaign to Protect Rural England, said the charity had called on its members to support the petition.
"This windmill is one of the defining images of Warwickshire, alongside things like Anne Hathaway's cottage," he said.
"These houses would be built about two miles south of the mill and would be very visible."
The site - known as Gaydon and Lighthorne Heath - is identified in the council's core strategy.
The council said the proposals outlined where a potential development could go.
The strategy is being reviewed by a planning inspector before it can be formally adopted.
The government requires the council to build 11,300 new homes by 2031.
Jeremy Wright, a Conservative MP in Warwickshire, said the windmill was, "one of our most important national monuments".
"The positive response to the e-petition shows many people feel the same," he said.