Coventry University to knock down buildings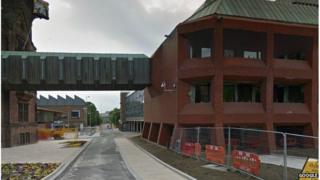 A university development in Coventry city centre will see four major buildings knocked down and replaced with a "research hub".
Coventry University plans to demolish the council civic centre and replace it with a complex that would house an international centre, research facilities and living accommodation.
The city council is due to move into new, purpose-built facilities.
The university said the buildings were at the end of their "useful life".
'Landmark facilities'
The buildings, on Little Park Street and Much Park Street, will be vacated when the council moves into a new development on Friargate.
Kevin Maton, Labour cabinet member for business, enterprise and employment, said some people in the city would be sorry to see the four buildings go.
"But when I talk to the people who work there, they feel the buildings have served their time," he said.
"This is about an exciting change for the university in terms of its international work and research."
He said the look of the whole city centre was due to be considered in the council's local plan consultation.
"We will be asking, 'What is Coventry style?' This is a question everyone can contribute to," he said.
David Soutter, deputy vice-chancellor of Coventry University, said the area was, "an absolutely key site in the centre of the city".
"It's right next to the historical council buildings which are an important part of the architecture of the city," he said.
"We saw this as an opportunity to extend our campus and really create a landmark set of facilities that will do the right thing for the city.
"The buildings that are there have served a very valid purpose but they are getting towards the end of their useful life.
"We are taking a long-term view about what would be right to do for the city for the next 15 years."