Apology over sale of Coventry's Ricoh Arena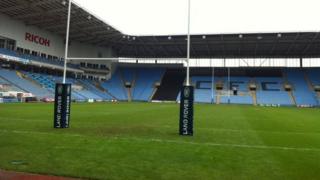 Coventry's council leader has apologised "if people felt misled" over the sale of the firm that runs the Ricoh Arena.
Ann Lucas had said that ACL was "a very profitable enterprise", but the latest set of accounts shows that the company made a £392,299 loss in 2014.
Ms Lucas she had never "intentionally deceived people" about the firm, which was owned jointly by the council and a charity until last autumn.
ACL has been sold to rugby team Wasps.
Ms Lucas said 2014 had been "one exceptional year" for ACL, which made a £775, 465 profit in 2013.
During that year, Coventry City moved from the Ricoh to play home matches in Northampton.
'Never deceive anyone'
The company was also caught up in a protracted legal row involving the club's owners, Sisu.
"I'd never intentionally deceive anyone," said Ms Lucas. "Once I've been told something by our shareholders and advisors, I take that to be correct.
"They told us ACL was a profitable business and we believe they are. Lots of businesses have good years and bad years, and ACL had a sound business plan.
"Wasps wouldn't have bought our shares if they didn't think it was a proper business."
'Very profitable'
She said she was confident that the firm would now go "from strength to strength" under its new ownership.
The loss was reported by newspapers in Coventry, which noted that in October Ms Lucas had told BBC Coventry and Warwickshire that ACL was "very profitable".
"I hope it doesn't cast doubt on my credibility," Ms Lucas said. "If people feel misled I am sorry about that, but I acted on the same information every councillor had and I stand by that."
Wasps said the financial results had taken place prior to its ownership of the company. However, it said ACL trading in the year to May 2014 was "a departure from previous years" after Coventry City exited the stadium.
"Recent trading has already delivered record operating results," the club said.