M&S warehouse closures in Coventry and Leicester lead to 150 job cuts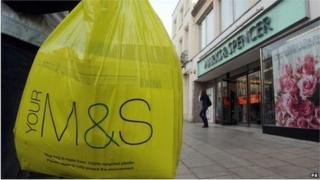 At least 150 jobs will be lost as Marks and Spencer cuts operations at warehouses in Coventry and Leicester.
One of the depots, on Rowley Road, Coventry, is run by parcel firm DHL which said the site could close in April.
M&S is also pulling out of a warehouse in Leicester because it said it was reducing the number of centres it operated across the country.
Unions said the news had come as a shock to staff.
'Out of blue'
The cuts are expected to involve logistics and HR workers, packers and canteen staff. Both warehouses distribute clothing and homeware to stores.
DHL said it would seek to find "alternative employment opportunities within the organisation" for its 150 staff affected in Coventry.
In a statement it said it would "enter into a period of consultation both with the trade unions and individually with affected employees to discuss ways to minimise the impact".
However, unions said discussions involving staff relocating from Coventry to Peterborough were "not reasonable".
Ken Usher, the regional organiser of the RMT union, said: "When you consider the distance people are expected to transfer, from one location to another, it's not a reasonable distance."
Staff at the Leicester warehouse, in Sunningdale Business Park, are employed by LFL. When asked whether there would be job cuts, LFL said it could not respond but that M&S had "communicated their plans".
M&S said it was reducing its distribution centres from more than 100 in 2009 to just six large national warehouses.
"We understand that it will be an unsettling time for those involved and we will do all we can to support," M&S said.