Shakespeare's New Place and Coventry Charterhouse share £2.2m funding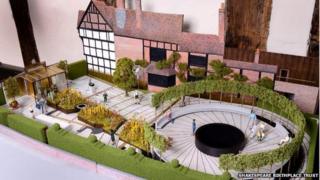 Two of Coventry and Warwickshire's most historical sites have been awarded £2.2m between them to help them become major tourism attractions.
The site of Shakespeare's last home - New Place - in Stratford-upon-Avon has been given £1.8m by the Heritage Lottery Fund (HLF).
And the Grade I-listed Charterhouse, a Carthusian monastery in Coventry, has received £400,000.
The teams behind the projects said the funding was "great news".
New Place, which was demolished in 1702, is the subject of a major renovation that will coincide with the 400th anniversary of Shakespeare's death, in April 2016.
The £5.25m project, by the Shakespeare Birthplace Trust, will excavate the Bard's living quarters for the first time.
The lottery grant will fund a new entrance and landscaping and the creation of an exhibition centre where artefacts can be displayed, many for the first time.
The old in the New
Described in Shakespeare's will as "the house wherein I dwell", New Place has attracted literary pilgrims for centuries
However, the home was demolished in the 18th Century
A second house, built in its place, was also demolished in 1759 by its owner Francis Gastrell, who was reputedly annoyed by visiting Shakespeare enthusiasts
Diana Owen, the trust's chief executive officer, said she was "delighted" with the funding.
"This is the biggest single Shakespearian project to commemorate 400 years of Shakespeare's legacy and we look forward to welcoming visitors," she said.
The Coventry Charterhouse, which dates from 1381, was previously used by the City College.
Ownership of the building passed to the Charterhouse Trust in 2012 following a community campaign.
The grant will enable the trust to work up plans for a £4.7m restoration of Heritage Park, which surrounds the site, as well as restoration of the buildings and monastic walls.
'Noise and sins'
The Charterhouse was originally constructed as a large Carthusian monastery complex
Richard II laid the foundation stone to the church in 1386
Parts of the church wall are embedded in the monastic precinct walls which protected the monks from the city's "noise and sins"
Ian Harrabin, chairman of the trust, said: "This is massive news for the city.
"Having so much history from over 600 years in one place is unique. What's amazing is that up until recently, most people didn't know it existed."