Counterfeit make-up brands at shop 'contained arsenic'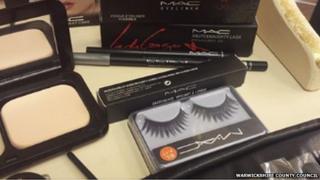 Fake versions of well-known make-up brands seized in Warwickshire contained "dangerous" metals such as mercury and lead, trading standards officers said.
The local council raided a Nuneaton shop after a resident reported an adverse skin reaction to the products.
Some products, which included counterfeit versions of Mac, Benefit and Naked Pallet, contained more than 19 times more lead than permitted.
An investigation is under way, Warwickshire County Council said.
Tests on lip gloss, eye shadow, eye liner, skin powder and other facial cosmetics revealed they contained heavy metals such as arsenic, mercury, copper, cadmium and lead.
The council said no official action had been taken against the store as investigations were still under way.
Councillor Richard Chattaway said: "It is unusual for fake and dangerous cosmetics to appear on the high street.
"However, we would advise consumers to seek medical attention if they have an adverse reaction to any product they purchase and to report the product to trading standards.
"Retailers are also reminded that they have a responsibility to ensure the products they sell or use on their customers are both genuine and safe."