Tawny owl in 10-mile roof rack trip to be returned to the wild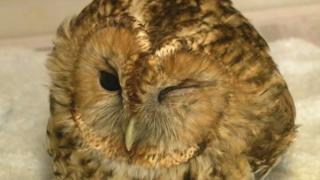 A tawny owl which flew into the path of a car and got its head trapped in the roof rack for 10 miles is due to be returned to the wild later.
Birch, named after the industrial estate in North Warwickshire where it was discovered, suffered concussion and an injured eye.
The driver, travelling at about 50mph, did not realise until he stopped at Birch Coppice Estate in Dordon.
Warwickshire Wildlife Sanctuary said the owl has fully recovered.
Birch's behaviour in flying into the roof rack was not unusual, said Geoff Grewcock, from the Nuneaton-based charity.
"It's pretty common behaviour for these birds. Tawny owls are known for it - they fly into anything. They are so awkward," he said.
In March 2014, the sanctuary nursed back to health a tawny owl who was discovered clinging to the front of a train for a journey of more than 300 miles.