Daniel Pelka case: Judge criticises 'perverse' attitudes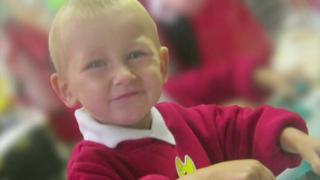 A judge has criticised as "perverse" the attitude of some head teachers after the murder of four-year-old Daniel Pelka.
In a new report, Donald Hamilton said he had heard some head teachers believe child protection is "an unwelcome addition to their responsibilities".
But Mr Hamilton praised the council's "determination" to address failings.
He was appointed as an adviser for Coventry City Council after Daniel was killed by his mother and her partner.
In March 2014, children's services in Coventry were branded inadequate by Ofsted.
'Systemic weaknesses'
The council was criticised for a lack of robust management and not seeing vulnerable children fast enough.
Mr Hamilton, who was appointed in 2013, said the Ofsted report had come as "a blow to the morale of management and staff in children's social care but it served a useful purpose by identifying systemic weaknesses".
But he said although "it will take time to turn the ship around to the point where Coventry will be entitled to expect a glowing report from Ofsted", he was pleased at the decision to reduce the council's reliance on agency social workers and that "the multi-agency safeguarding hub was bearing fruit".
Daniel died in 2012 after Magdelena Luczak and Mariusz Krezolek starved, beat and tortured him.
The pair are serving life sentences for the four-year-old's murder.
A serious case review into Daniel's death concluded he was "invisible" at times to police, NHS and care agencies.