Brick thrown from Coventry bridge at police car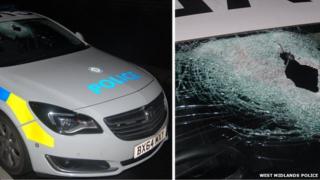 A brick has been thrown from a bridge, injuring two police officers as it smashed through their patrol car's windscreen.
The officers were driving along the Coventry's ring road on their way to an emergency call when the coping stone was thrown late on Sunday.
Both policemen were taken to hospital and treated for facial injuries.
A West Midlands Police spokesman said he believed the car had been targeted deliberately,
The officers, aged 49 and 27, have been discharged from hospital and are spending time at home, West Midlands Police said.
Det Insp Stuart Bell said: "Not only did the mindless action of these people cause police officers having to spend a night in hospital , it also meant that someone who desperately needed our help and had dialled 999 was left vulnerable."
Anyone with information is asked to contact police.