Award-winning Coventry canal gets £470,000 upgrade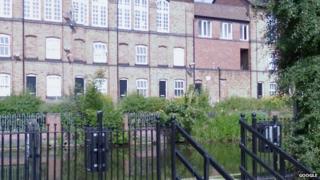 An award-winning canal trail is to get a £470,000 upgrade to help it serve as a commuting route for cyclists.
A "missing stretch" of the Coventry canal towpath, measuring 2.5km (1.5 miles) in the Stoke Heath area will be widened and made accessible for cyclists and wheelchair users.
The council said the work, which will involve closures to existing paths, is expected to be completed by March.
The Canal and River Trust said the plan would make the route "more enjoyable".
'Missing piece'
The 5-mile-long (8km) canal trail was named as one of Britain's top urban walks in 2003 following a huge restoration project.
The council said the improved path was being created as part of a £7m Cycle Coventry project to upgrade routes across the city.
It said the path would be widened, making it more suitable for cyclists and wheelchair users, between Bridge 1 at Draper's Fields to Bridge 4 at Stoney Stanton Road and the development at Electric Wharf.
However, an "outdoor art gallery" along the trail, which has been hit by vandalism, will not be tackled "at this stage".
Charlotte Atkins, from the Canal and River Trust which is supporting the scheme, said: "This really is the missing piece of the jigsaw.
"We already know the towpath leading into the city is very popular but this project will make the final stretch much easier and more enjoyable for people to use."
Councillor Rachel Lancaster said: "It's an important traffic-free link between the city centre and the north of the city... as well as being an ideal recreational route for people to enjoy."