Ian Neale given suspended jail sentence for assault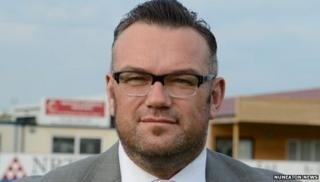 A former football club chief executive who launched a drunken attack on an ex-colleague has been given a suspended jail term.
Ian Neale, formerly of Nuneaton Town, punched and head-butted the club's former financial director David Allen and attacked two security guards at a charity ball at the Ricoh Arena.
Neale, 48, of Redruth Close, Nuneaton, had denied three charges of assault.
He was given a 26-week sentence, suspended for 12 months.
He must also do 300 hours of community service.
'Unprovoked attack'
Coventry Magistrates' Court heard how, at around 00:15 GMT on 27 September 2014, Neale approached the table at the NSPCC ball where Mr Allen was sitting and assaulted him.
Neale was restrained by security guards but followed Mr Allen into the foyer, where he assaulted him again.
He then punched one security guard and injured another.
At a two-day trial in January, Mr Allen told the court he left the club in 2012 because he was "dismayed" by Neale's behaviour.
The court heard there was ongoing civil litigation between the two men.
Rob Perry, prosecuting, said the attack on Mr Allen had been "sustained".
"Neale was, by his own admission, 'in drink'," he said.
James McLernon, defending, said: "It was a terrible mistake he made that he must pay for, but a mistake he will not repeat."
He said that Neale undertook a number of "charitable endeavours" and had formerly sat on the NSPCC board in Coventry.
Roger Pulley, chairman of the bench, said: "You were the aggressor in an unprovoked attack."
The court sentenced Neale to 18 weeks' custody for the assault on Mr Allen, plus four weeks each for the assaults on the two security guards.
Neale was also ordered to pay a total of £2,480 in costs and compensation.