Packington landfill site closing after 50 years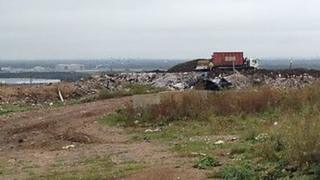 A landfill site used to bury waste from Birmingham is closing after 50 years, because it is full.
At its height in the 1980s, more than 2,000 lorries a day delivered rubbish from homes and businesses in the city to Packington in Warwickshire.
About 35 million tonnes of waste is buried at the site, which is run by SITA UK.
It says the site will be restored with meadows, woodland, lakes and footpaths after the final delivery is made later.
About eight employees will be redeployed within the company.
Composting, electricity production and wood shredding will continue at the site.
Geraint Rees, landfill general manager at SITA UK, said: "It was once the busiest site in Europe, but it also had the reputation for leading the way in landfill technology.
"It was the first site in the country to produce electricity from landfill gas."