Coventry City Council approves £15m service cuts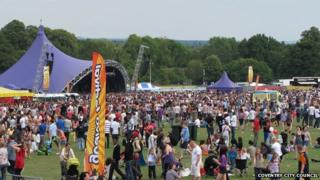 City councillors in Coventry have approved controversial plans to make £15m of cutbacks.
The cuts will affect a range of council services from street cleaning to parks maintenance and the city's Godiva music festival, and will also involve the sale of council-owned buildings.
The Labour-run council approved the budget by a vote of 38 to eight. Council tax will also rise by 1.9%.
However, critics said they felt the decision was wrong.
'Difficult decisions'
The council said its government grant for 2015 had been reduced to £135m, from £214m in 2010.
It has previously described the cuts as "unprecedented".
Damian Gannon, cabinet member for finance, said: "We're going to have to make some really difficult decisions about services and we've got to be really honest with local people about the impact of these choices."
The council voted through £500,000 cuts to street cleaning, a £1m cut to parks maintenance and cuts to the Godiva festival, which could be run every other year.
It also voted to save £6m on staffing, through voluntary redundancy, early retirement and reducing management numbers.
However, it said some services, such as libraries, would not close for 12 months.
It also announced a new £500,000 transition fund, aimed at assisting communities and other organisations who wished to take over the running of some services.
David Kershaw, cabinet member for education, said: "It doesn't presuppose that services will be taken over but it does mean communities will have the resources they need to make informed decisions."
However Dave Nellist, from the Trade Unionist and Socialist Coalition party, who presented a 1,500 signature petition to cabinet ahead of the council meeting, said: "Over the next few years, up to 100 facilities in this city which have been built by people's council tax are all under threat.
"Today is the beginning of the process of those closures and cuts.
"These are political decisions and I think they made the wrong ones today."