Coventry tunnel turned into Motofest nightclub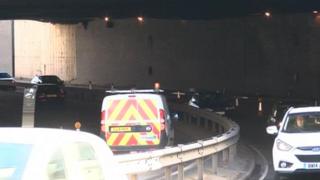 A road tunnel is to be transformed into a nightclub as part of a motoring festival.
The Greyfriars Green tunnel on Coventry's ring road will close to traffic at 17:00 GMT on 30 May and be turned into a 5,000-capacity club.
The Motofest event will follow the official opening of the tunnel, part of the £59m Friargate development.
After a night of DJs and other entertainment, the tunnel will reopen at 05:00, organisers said.
'Unique celebration'
Jeremy Heaver, Motofest commercial director, said: "When we first took the idea to Coventry City Council, I think it probably took them aback as it is a slightly leftfield thing to do."
Councillor Rachel Lancaster, in charge of public services, described it as a "pretty unique way to celebrate the opening of our new tunnel", part of a major regeneration project in Coventry.
The three-day Motofest 2015 begins on 29 May and will see the city stage time trials on public roads, alongside exhibitions, music and other events.
British Formula 3 cars, among others, will complete laps of the ring road.
It follows a change in the law in July which allowed local authorities to suspend the Road Traffic Act.
Organisers said they wanted Motofest to be seen as the "Edinburgh Festival" of vehicles.
Coventry - England's motor city?
During the late 19th and early 20th Centuries, Coventry was renowned firstly for its bicycle, then its automotive manufacturing
The first British motor car was made in the city in 1897 by Daimler - Jaguar and Rover also made their home in Coventry
Coventry was one of the locations used for the iconic Mini Cooper chase in The Italian Job
The ring road has also been used as a drive-in cinema. During the 40th anniversary of the road, a screening of The Italian Job was held underneath it
Today the ring road is used by between 40,000 and 60,000 vehicles a day