Baddesley Ensor ostrich detained by police after escape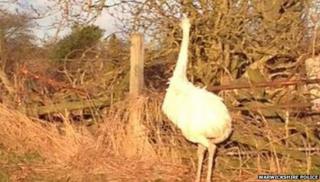 An "angry" ostrich had to be detained by police after it escaped from a farm in a Warwickshire village.
The bird, called Colin, had jumped a fence at Rotherhams Hill farm in Baddesley Ensor, police said.
A retired policeman spotted the 5ft 6ins bird just before 15:45 BST on Tuesday. The man claimed the bird was angry and had tried to bite his dog.
Officers were called to Heanley Lane in the nearby village of Hurley and detained the bird in a field.
Pc Jamie Blood said the ostrich was reported missing on Monday. He said it was kept by the owners to keep foxes away from their chickens.
"It's one of the more unusual incidents officers have dealt with recently," he said.