Former City Link staff lodge claim against firm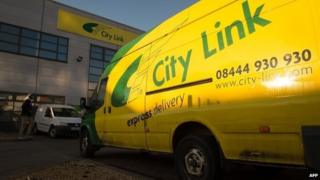 Former employees of City Link have lodged a claim against the firm which they claim failed to consult them properly over job losses.
The Coventry-based company, which employed 2,727 staff, announced it had entered administration on Christmas Eve after "substantial losses".
Around 225 of the staff who lost their jobs are seeking to gain compensation.
The administrators said that as the matter involved litigation, they could not comment on the claims.
'Several months'
Job losses at the firm were estimated to come to around 2,586 and 51 of the firm's depots closed.
JMW, the law firm which has lodged the claim, said companies had to go through a process of consultation with employees.
It says the employees are entitled to claim up to eight weeks' pay in addition to any redundancy or notice pay they may have already received.
"It is doubtful there will be sufficient assets to pay the damages owed which will mean that the government will pay the bill of any damages awarded," the firm said.
Carl Moran, a partner at JMW, said: "We are still getting ex-employees contacting us and we would encourage as many as possible to come forward."
The firm said it may be several months before the final hearing will take place.
The administrators, EY, said they were, "aware of the obligations of the company to consult under employment law and that employees will have rights in the event these haven't been complied with.
"As it is a matter involving litigation, it would be inappropriate for the administrators to make comment on any aspect of the claims."