Stratford councillors vote against Cotswolds solar farm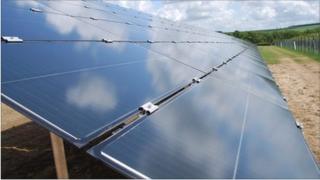 A solar farm developer has said it is reviewing its options after a council voted to stop it building in a beauty spot.
Stratford-on-Avon District Council had recommended the development near Ilmington, Warwickshire, be approved but councillors voted against it.
Campaigners said they were "absolutely delighted" with the result.
Developers Blackwell Grange Solar Farm Ltd said they respected the decision, adding: "We're reviewing our options."
Planners heard the 18-hectare site was near an area of Outstanding Natural Beauty in the Cotswolds.
'Character of the area'
They were told Blackwell Grange was one of the only solar proposals in the district that had no special landscape or greenbelt designations.
However, the leader of the Conservative council, Chris Saint, was one of those who objected to the plans, saying they threatened the character of the area.
John Bird, a resident who helped lead the campaign against the development, said he was "delighted" the plans had been rejected.
"We had a party in the local pub and we had more than 100 people in the room celebrating when the council made that vote," he said.
Mr Bird said there had been more than 500 letters of objection to the scheme.
"Ilmington Hill is one of the highest points in Warwickshire with fantastic views," he said.
"I have no doubt these people will appeal but the rest of the local community in south Warwickshire will fight this all the way."
The developers said: "The council overturned the case officer's recommendation for the scheme's approval and we respect that decision."