Fugitive killer of fireman in Coventry held in Canaries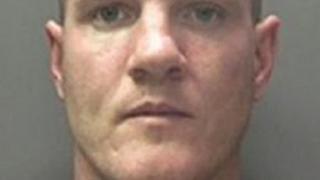 A "most wanted" fugitive who killed an off-duty fireman with a single punch in Coventry has been arrested in the Canary Islands.
Shane Walford, 38, was detained by Spanish police on Saturday.
He was jailed in 2010 for the manslaughter of Paul Gibbons while on leave from the army.
Mr Gibbons, a father of two, was attacked as he celebrated his birthday on the dancefloor at Millsy's bar in Coventry in October 2009.
Walford had been jailed for four-and-a-half years and recalled to prison in August 2013 for breaking the terms of his licence.
Walford, formerly of St Athan Barracks, Vale of Glamorgan, handed himself in to police when Mr Gibbons died in hospital from brain injuries the following day.
He appeared on a list of Britain's most wanted fugitives believed to be on the run in Spain published by the National Crime agency on Tuesday.