Warwickshire Police Chief Constable Andy Parker retires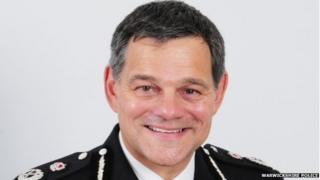 The Chief Constable of Warwickshire Police, Andy Parker, is retiring after three years in the role.
Mr Parker joined Warwickshire Police 10 years ago and was appointed Chief Constable in 2011.
He said he felt the "time was right" to go, after having delayed his retirement to work with Police and Crime Commissioner Ron Ball.
He is being replaced by Martin Jelley from Northamptonshire Police, who will take up the position on Wednesday.
'Too exciting'
Mr Parker spent 22 years working for the police in North Yorkshire and said he had "enjoyed every minute" of working in Warwickshire.
He said he had originally planned to retire after 30 years of policing, "but the prospect of working with the newly-elected police and crime commissioner... was too exciting to miss and I have to say the decision to stay on for a further two years was the right one".
He added: "I feel the time is now right to bring in a new chief to take the force forward through the next phase of development".
Mr Jelley, currently the Deputy Chief Constable of Northamptonshire Police, is currently being investigated by the Independent Police Complaints Commission (IPCC) over "potential gross misconduct".
Mr Ball said he was "delighted" with Mr Jelley's appointment.
"I am really looking forward to working with him in the challenging times ahead," he said.