More job cuts 'likely' at Warwickshire Police says new boss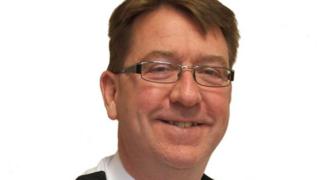 Officer numbers at Warwickshire Police could fall over the next five years, its new chief constable has said.
Martin Jelley said the force, which has made £10m in savings over the past three years, is likely to have to save the same again in the coming years.
He described the prospect of the force shrinking as "quite likely" with 80% of the budget is spent on salaries.
Mr Jelley is currently being investigated by the police watchdog over "potential gross misconduct".
The Independent Police Complaints Commission investigation relates to his time as deputy chief constable at Northamptonshire Police.
Vulnerable children
He and a former colleague are being jointly investigated over claims their conduct in relation to an "internal professional standards matter" was inappropriate.
But Mr Jelley insisted he had acted in good faith and "the truth will come out".
He also denied the probe was a distraction in his new post.
On the matter of police numbers, he said: "In the short term, into 2016, I don't anticipate officer numbers dropping but, if we take a five-year time frame, it's quite likely we'll see some reductions."
He said other priorities will include setting up a multi-agency safe-guarding hub for vulnerable children and stepping up policing cyber crime.
Warwickshire Police and West Mercia Police announced plans to form an alliance in 2011, which came into effect in 2013.
Mr Jelley said he was keen for the alliance to continue but with more cuts looming, jobs were likely to go.
The two forces said in 2012, 650 jobs would be lost as they save £30m - £20m within West Mercia and £10m in Warwickshire.
The number police officers in full-time equivalent roles in March 2012 was 844, compared to 816 in April this year.