Coventry club where Daniel Kirkwood was attacked 'should be closed'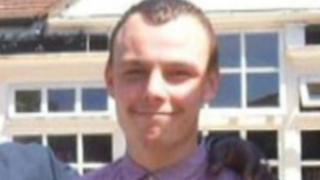 A Coventry nightclub where a teenager was attacked has had its licence revoked after police said they could not rule out the possibility it was linked to organised criminality.
Daniel Kirkwood, 18, died after collapsing with a stab wound outside the Society Club, on Tower Street, in the early hours of Sunday 15 March.
Five men have been charged with Mr Kirkwood's murder.
The nightclub's owner, Gurdeep Bassi, did not attend the hearing.
'Really horrific incidents'
In their application to Coventry City Council's licensing committee, West Midlands Police said two other teenagers were wounded with knives on the night Mr Kirkwood was attacked.
Officers said Mr Kirkwood had been out with friends celebrating an 18th birthday at an "urban night" hosted by the club.
Police claimed the club's owner had significantly reduced the number of security staff being used to monitor the event.
Insp Hassan Shigdar said he could not rule out the possibility the premises was linked to organised criminality in the city.
Officers also said they found evidence the club's basement had been used as a cannabis factory.
They said three men had been stabbed outside the club in October 2013, one of them sustaining severe injuries, while in September 2014, a man had been found with a machete on the premises.
Patricia Hetherton, who chairs the committee, described the series of attacks as "a catalogue of really horrific incidents".
She said: "How has it reached the point where a young man is murdered before something has been done?"
The police replied they needed to demonstrate they had enough evidence to revoke the club's licence.
They said the club's owner had previously assured them he was working to meet their requirements.