Nuneaton memorial to fallen Gurkha soldiers dedicated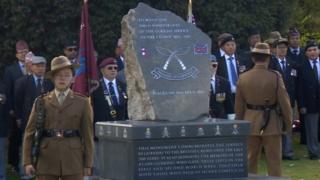 A memorial to Gurkha soldiers killed while serving in the British Army has been dedicated in Warwickshire.
The stone memorial, remembering the 43,000 Gurkhas killed in World War One and World War Two is in Riversley Park, Nuneaton.
The Queen's Gurkha Signals regiment is based in the town, and local people raised £40,000 for the memorial in only three months.
The dedication ceremony included a march by veteran soldiers.
Warwickshire County Councillor Bob Hicks said: "The Gurkhas have a long association with the borough - it is fitting for the monument to be in Nuneaton."