Coventry's Classic Air Force show 'huge success'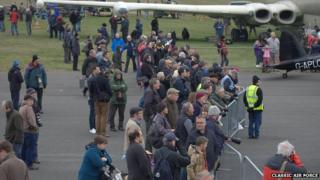 About 2,500 people have attended a vintage air show, the first at a Coventry base in a decade.
Organisers said it meant "a huge amount" would help safeguard the Classic Air Force collection.
The show on Saturday featured rare aircraft that dated from the end of World War Two to the 1960s.
Jem Shaw said the event at Coventry Airport had been a "tremendous success" and there were plans to put on another event later in the year.
"Most of us were doing this for the first time. We needed to prove to everyone, including ourselves, that we could do it.
"There were no major problems and people were so generous and hopefully they had a good time."
Actors Idris Elba, who was filming a programme for the Discovery Channel, and Martin Shaw were both at the event.
Jem Shaw said as well as buying entry tickets, many visitors had given donations.
"The queues to see the Shackleton and Nimrod were fantastic. They're separate preservation trusts and need to raise their own money, but the people there were grinning, because they had full collection boxes."
Aircraft on display at the show included the Gloster Meteor NF11, the night fighter variant of the pioneering British jet, the Meteor T7, the world's oldest flyable jet, and the Canberra, which set the world altitude record in 1957.
The Meteor and De Havilland Vampire put on a joint display.
Mr Shaw said very few museums focused on the post-war period, but described it as an important era in British aviation.
He said Coventry, birthplace of jet engine inventor Sir Frank Whittle, was the perfect place for the collection.