Coventry's Festival of Motoring enthusiasts 'try to save it'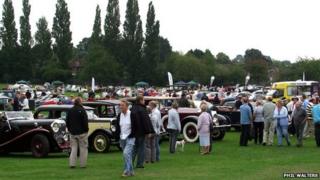 A group of car enthusiasts are "trying very, very hard" to ensure a 30-year-old motoring festival goes ahead after it was cancelled by organisers.
Coventry's Festival of Motoring was axed in March, partly because £20,000 in city council funding was withdrawn.
Phil Walters, of Coventry, is leading a team that is in talks with several sponsors to put on the event at Stoneleigh Park showground in August.
"It's a large event for Coventry and we just want to keep it going," he said.
Mr Walters, 67, who runs a car body repair firm, said the event was particularly important because of the city's car-making heritage.
"From day one we had 90 car manufacturers in the city, which is hard to believe now, and we were among the first people making cars in the world," he said.
Culture Coventry, the last organiser of the festival, said in March it had to put its resources into the reopening of Coventry's Transport Museum and the cuts from the council and sponsors had led to a review of the show's viability.
The charity did not rule out staging the event in the future.
However Mr Walters, a former member of the organising committee, believes it would be difficult to revive the festival, which attracted 40,000 visitors in 2014, if it missed a year.
He said Stoneleigh had agreed to hold the event over August Bank Holiday but his team had about three weeks to secure the ground rent through sponsorship.
They are also contacting previous participants of the classic car run, which is part of the event and will contribute to the funds needed.