'Boy racers' used Coleshill, Warwickshire, as a racetrack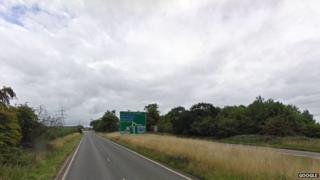 Some 200 "boy racers" used a Warwickshire town as a racetrack on Sunday night, residents have claimed.
People said the cars were racing on the A446 at Coleshill for "about an hour" from 23:00 BST.
Residents criticised Warwickshire Police for their 43 minute response time.
The force said it was "working hard" to find a solution. Police commissioner Ron Ball said the force did the best it could with the resources available.
'Everybody drove off'
The rally follows a number of similar events on the Hams Hall estate, where gates were installed to stop the racers.
However, Mr Ball said the racers had "obviously been displaced" to Coleshill.
Colin Cheesman, one of the residents, said the cars were racing from the site of the former Coleshill Police Station to the M6 toll island.
"The noise was tremendous," he said. "They were using the road as a racetrack.
"It took the police about an hour to arrive and as soon as they turned up, everybody drove off.
"They only stopped two cars and they were spectators, so they weren't the problem."
In a statement, Warwickshire Police said they had received "multiple reports" about racing cars between 21:30 and 23:00.
"Approximately 10 police units were deployed to the scene, which resulted in the vehicles which had accumulated leaving the area," they said.
They added two vehicles had been seized for traffic offences, including having no MOT.
Mr Ball said the response time was 43 minutes.
"I'm not saying that's satisfactory, but their target was to be there within an hour," he said.
"The officers do the best they can with resources and equipment we give them.
"What I would not expect is to have a high-speed police chase to seize these vehicles."