Fire at Coventry shoe warehouse treated as arson, say investigators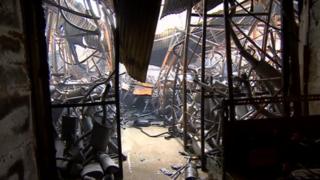 A large blaze that destroyed a shoe warehouse in Coventry is being treated as arson, fire investigators have said.
About 80 firefighters tackled the blaze at the United Footwear plant on Holbrook Lane on 3 May.
West Midlands Fire Service said its investigators were working with the police.
The owners of the warehouse, which the service said might have to be demolished, said they did not wish to comment on its future.
West Midlands Police said: "The fire caused damage to the entire building and neighbouring units and vehicles. No one was injured.
"Officers continue to investigate several lines of inquiry."