Warwickshire Police theft accused Paul Greaves 'had large debts'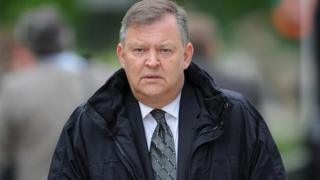 A retired detective accused of stealing £113,000 from a former police headquarters had debts of more than £50,000, a court has been told.
Paul Greaves, from Nottingham, denies a charge of theft, from a locked cellar at Warwickshire Police's old base in Leek Wootton between 2009 and 2011.
Jurors were told he disguised paying the money into his bank by laundering it through betting on horses.
His accounts showed deposits that "could not be reasonably explained".
Birmingham Crown Court heard that when the 56-year-old was asked about the payments, he said he knew a couple of tipsters with whom he was "almost certain to win money" every time he bet.
Farm raid
Simon Davis, prosecuting, told jurors Mr Greaves came into a "surplus of cash" not long after the money was seized.
"Betting he did - no issue about that. He did bet. But he was a loser," he said.
The money going in could not be explained because he was losing more than he was winning, he said.
"His betting, we say, was a way of laundering the cash," he said.
Mr Davis said the £113,000 was seized on a police raid on a Leicestershire farm in June 2009.
Mr Greaves, from Carlton, an officer with 25 years experience, was the police team's financial investigator, but he "failed to follow proper procedures".
A review of the police's national computer database, the joint asset recovery database into which the money should have been logged, later found no entry had ever been recorded, Mr Davis said.
The force discovered the money was missing in September 2011, nine months after Mr Greaves had retired, and when it was due to be returned to its owners.
The court was told Mr Greaves said the large deposits in his bank account that coincided with the money's disappearance was "good luck on the horses".
But, investigators discovered he had borrowed thousands of pounds from friends and relatives and by 2008 he had debts of £52,000, the court heard.
"We don't have to prove a motive, but you might think, listening to what his finances were like that temptation - we say - must have got the better of him," Mr Davis said.
The trial continues.