Coventry Child E died with cocaine and alcohol in his blood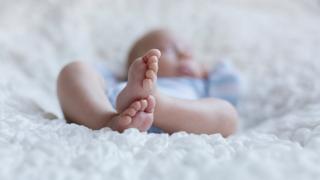 A baby boy who died after sharing a bed with his mother and uncle had cocaine and alcohol in his blood, a serious case review has found.
The five-month-old suffocated in May 2014 after a party at his parents house in Coventry where cannabis was grown.
A coroner ruled 'Child E's' death was accidental and his parents were not prosecuted for neglect.
The report found there was nothing to indicate the boy was in danger before he died.
More on Child E and news from Coventry & Warwickshire
The baby's mother had drank up to three litres of lager, his father had fallen asleep downstairs and the uncle got into the couple's bed, the review concluded.
At about 04:30 the woman got into bed next to her brother and put her son by her side - despite the crib being in the same room.
The woman woke at about 09:00 to the sound of her brother screaming the baby's name - her arm was draped across the boy's stomach.
An ambulance was called and medics said the baby arrived at the hospital "grubby" and in a full nappy.
'Dirty'
Police said the bedroom was damp, dirty and cluttered with food.
Low levels of cocaine and alcohol found in the baby's system showed he was not deliberately given the substances but was exposed to them.
The boy's father was a former heroin addict with a string of convictions including theft, burglary, threats to kill and wounding, said West Midlands Police.
The baby's mother acknowledged she had her partner had been selfish and their use of alcohol and drugs had been a risk for the children.
An NSPCC spokesman said: "Though some opportunities were missed for the family to be monitored, it appears there were no significant reasons for the authorities to be concerned at the time."
The serious case review will go before Coventry City Council on Thursday 14 April.