'Bomb-like' device closes Rugby scrap yard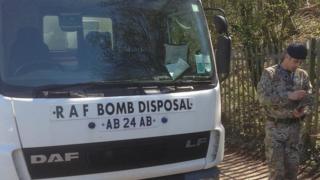 Bomb disposal experts were called to a scrap yard after a worker spotted a "bomb-like" device in a vehicle due to be crushed.
The device - two jars filled with liquid and with a wire attached - was found in a Vauxhall Omega at Charles Trent Cars in Rugby at 10:00 GMT.
Warwickshire Police were called and 49 workers and customers evacuated from the site in Newbold Road.
A bomb disposal team later found the device was not dangerous.
The item was found in the boot of the car, which had been delivered to the site from the Rugby area a month ago.
Site manager Kevin Lawrence said it had been discovered by a worker clearing out the car.
"We didn't know what it was. We opened it to see if it smelt of fuel or diesel," he said.
"It smelt odd, like it could be fertiliser, and there was a bit of rag too.
"We were off the site for about four hours before it became obvious it wasn't going to detonate. You can't be too careful these days."
Further inquiries
A statement from Warwickshire Police said: "Explosives experts attended the site as a precautionary measure and following an assessment deemed the item was not dangerous."
However, the force has not released any further details about the precise nature of the substance found in the jars, or why it may have been left in the vehicle.
Insp Daf Goddard added: "Further enquiries are being made to establish why the item was in the vehicle but there was no danger to the public.
"Staff at the yard rightly called us and we contacted explosives experts as a precautionary measure.
"We would like to thank everyone for their patience while we managed this incident."