Police apology over Coventry assaults responses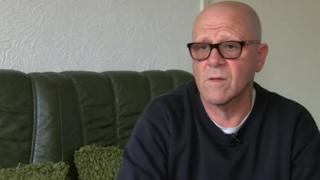 A senior police officer has apologised to two assault victims over his force's response to their attacks.
Kevin Lowe, 56, suffered broken bones and black eyes after he was attacked at a KFC restaurant in the The Burges area of Coventry last month.
Weeks earlier a 16-year-old boy with special needs had his jaw broken when he was attacked in a nearby alley.
Det Ch Insp Chris Hanson, from West Midlands Police, said the cases were being investigated seriously.
Mr Lowe said he has been off work for five weeks since the attack, and had regular trips to hospital to deal with injuries, which include a broken nose and leg.
He said it was "a disgrace" he had not been contacted by officers since the day after the assault, and said the attack "plays on my mind".
"I'm not the confident person I was," he said.
The mother of the teenager, who did not wish to be named, said her son was so traumatised he did not want to go back into Coventry city centre.
She also said officers took two weeks to take a statement from him and had not been in contact since.
Det Ch Insp Hanson acknowledged the "awful impact" of the attacks on the victims and their families, adding the incidents were "isolated" incidents.
"We're doing everything we can to try and identify those people who are responsible," he said.