Trinity Mirror to make Nuneaton News weekly newspaper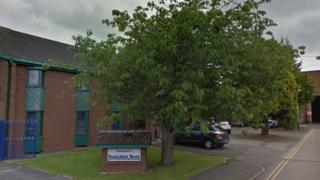 The Nuneaton News is to cease daily production, Trinity Mirror newspaper group has confirmed.
The title's offices in the town will close and the paper will continue to be published as a weekly edition.
Four jobs will be lost as a result of the change and the National Union of Journalists (NUJ) is consulting with staff.
The Nuneaton edition of the Coventry Telegraph will remain a daily newspaper.
More on this and other stories in Coventry and Warwickshire
Trinity Mirror bought out rival publisher Local World in October, acquiring a further 83 titles including the Nuneaton News.
A spokesman for the group said the Telegraph would be complemented by the "bolstered" weekly newspaper.
NUJ official Chris Morley said he will meet "absolutely heartbroken" staff on Monday.
"The team that has been there serving the town will be broken up and that will be a real shame," he added.
The newspaper's circulation in December was about 28,000 copies a month.