Outline plan for Gaydon's 2,000-home village approved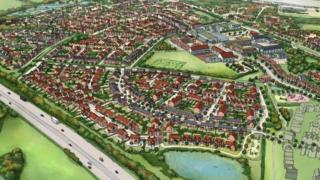 Outline plans for a controversial 2,000-home "garden village" near Jaguar Land Rover's (JLR) HQ in Warwickshire have been approved.
The development, next to the M40 near Gaydon, has won the consent of Stratford District councillors.
JLR raised concerns it could compromise the 100 hectares allocated for the plant's future expansion.
Existing residents' campaigner Laura Steele said families would continue their fight. against the new homes.
More on the garden village plan and updates from Coventry & Warwickshire
She said such a large development would "devastate" the communities in the surrounding villages of Gaydon, Lighthorne and Lighthorne Heath.
Local people are also concerned about an influx of cars going through Lighthorne to reach the M40, she said.
The council's planning committee voted five in favour and one against granting outline planning permission.
Committee chairman Danny Kendall said there had been a "very robust debate" over the plans.
He said: "The more detailed plan and works must now begin in order to achieve a development that is sustainable in the future."
Commercial Estates Group (CEG) and the Bird Group are behind the development, which aims to ease the county's housing shortage.
Richard Burke from CEG said: "This development lies adjacent to one of the largest employment areas in the district and will deliver a new community, with family, affordable and elderly housing alongside a new school, health centre, other facilities and transport improvements."