Philip Townshend's posthumous degree ceremony halted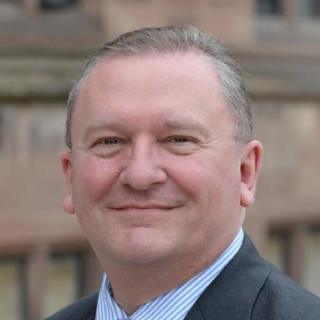 A ceremony to award a posthumous degree to a councillor facing fraud allegations has been postponed at the request of his family.
Police are investigating whether Philip Townshend, a Coventry city councillor, was involved in mortgage fraud prior his death in 2015.
It has been claimed Land Registry documents show he got his female victim to sign blank cheques and papers.
The University of Warwick ceremony was due to take place this month.
More Coventry & Warwickshire stories
Kirstie Logan-Townshend, 26, Mr Townshend's daughter, confirmed she had asked for the ceremony to be postponed as the family did not think it was an appropriate time for it to take place.
Mr Townshend is alleged to have taken out a mortgage on an elderly woman's house without her knowledge while he had power of attorney.
Although allegations were raised before he died, police did not interview him before his death, a BBC investigation revealed in June.
At an inquest in April, a coroner ruled Mr Townshend died of natural causes.
He became a councillor in 1999, served as a school governor and chaired University Hospitals Coventry & Warwickshire NHS Trust for five years.
The award, making Mr Townshend an Honorary Doctor of Laws, was to be the first posthumous award given out by the university.
In a statement, it said: "The University was contacted by the family on Monday to ask if we were willing and able to postpone the ceremony until our next set of degree congregations, which will take place in January.
"We have agreed to the family's request."