Calls for Coventry race row councillor Glenn Williams to resign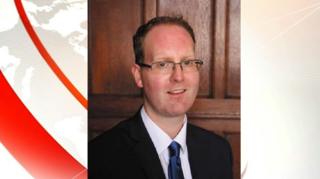 A councillor who said non-English speakers were "taking over" the country and should "go home" will be asked to step down.
Glenn Williams will be asked to give up his Bablake seat at a Coventry Council extraordinary meeting on 3 August.
Mr Williams has already left the Conservative party after telling a colleague on WhatsApp he did not "believe in multiculturalism".
He told the BBC he was not "a racialist" and his words were "banter".
The motion calling for Mr Williams to resign has been signed by labour councillors Abdul Khan, Mal Mutton, Patricia Seaman, Sucha Bains and the Labour council's leader, George Duggins.
The WhatsApp conversation was published in the Coventry Telegraph, days after Mr Williams contributed to a racism debate at a full council meeting.
He described Enoch Powell as a "personal hero" and said if Turkey joined the EU the UK would be "overrun with kebab shops".
Mr Williams said he intended to represent his constituents as an independent councillor until the next election, which will take place in 2020.