Warwick University CS spray row student wins IPCC case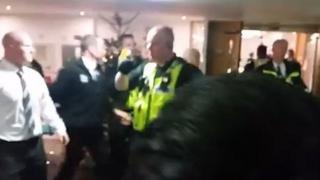 A student who claimed he was assaulted during a demonstration has won a High Court case against the Independent Police Complaints Commission (IPCC).
Lawrence Green challenged the IPCC's conclusion that there was no case for PC Simon Lloyd to answer on his complaint of misconduct.
PC Lloyd sprayed CS spray in his eyes during a protest at Warwick University.
A judge ruled the original conclusion should be quashed as it was based on an unlawful report.
The altercation happened during a demonstration over tuition fees in December 2014, when PC Lloyd was attempting to reach a person suspected of assault.
Mr Green's eyesight was affected by the spray and left in pain - symptoms which lasted for some time afterwards.
No case to answer
Lawyers for Mr Green, of Milton Keynes, told Deputy Judge Robin Purchas in London that the IPCC's decision was flawed in that it was based on the investigator's report, which was unlawful.
The court heard the report determined that the policeman's actions were justified, when the body should only have decided if there was a case to answer.
On Friday, the judge said the decision that there was no case to answer should be quashed.
An IPCC spokesman said: "We will be carefully considering the judgment and our position. It would be inappropriate to comment further before relevant decisions have been taken about how to progress the matter."