Woman, 79, has arm broken in Coventry bag snatch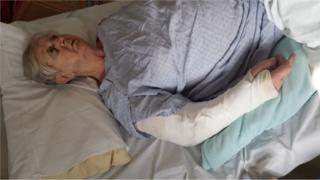 An elderly woman's arm was broken in five places as she was dragged to the floor when a thief stole her bag.
Eileen Flynn, 79, was mugged in Eden Street, Coventry, near the Gallagher Retail Park, on Monday afternoon and remains in hospital.
The attack has been called "sickening" by police who are appealing for any witnesses to contact them.
The thief wore a "reddish coat or jacket" and ran off down Crabmill Lane, officers said.
Read more Coventry and Warwickshire stories
Ms Flynn's granddaughter Laura Hughes said her grandmother was an active and independent woman who liked to get out and about.
That day she had "popped into the Adam & Eve pub with her friends for a half of shandy and to play some games…but was attacked not long after she left".
"She had about £70 in her bag. It's disgusting someone can put an old woman in hospital for the sake of a relatively small sum of money," Ms Hughes said.