Car driver dies in collision with a bin lorry in Coventry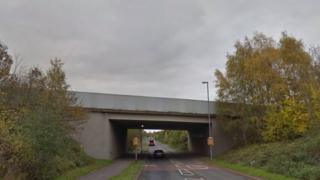 A car driver has died in a collision involving a bin lorry in Coventry.
The lorry driver and two passengers were also injured in the crash at about 11:15 BST along Brinklow Road.
The male car driver was pronounced dead at the scene and the others were taken to University Hospital in the city.
The city council said its thoughts were with the family and friends of the car driver "at this very sad time" and it was "cooperating fully with the emergency services".
A spokesperson said it could confirm one of its bin lorries was involved and its health and safety team attended the scene.
One man in the lorry, believed to be in his 20s, was cut free with the help of the fire service and treated for a serious leg injury and suspected pelvic injury.
A man in his 40s and a man in his 30s were treated for minor hand and leg injuries respectively.
The council spokesperson said: "Three of our crew members were treated at the scene and have now been taken to hospital for further treatment.
"We would like to thank all of the emergency services for their hard work. Families of those involved have been informed and we will make sure our crew have all the support they need now and in the coming weeks."