Coventry man died from hypothermia in the Alps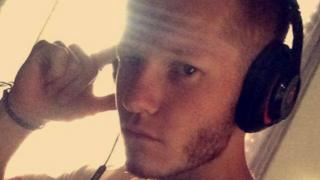 A British man whose body was found in the French Alps died from hypothermia, investigators say.
Owen Lewis, originally from Coventry, was found dead in the ski resort of Risoul in south-east France.
A search began after he went missing from a bar, early on 2 January. He was found on Friday, just a few hundred metres from where he was last seen.
Post-mortem tests indicated Mr Lewis, 22, had high levels of alcohol in his system when he died, experts said.
His body was found on 5 January after a 17-hour search by a helicopter from the National Gendarmerie Briançon, manned by mountain rescue teams.
'No signs of violence'
Those involved in the investigation say they believe Mr Lewis got lost when he left the bar and his body was found close to a stream.
His identity was confirmed through documents he was carrying.
Raphaël Balland, the state prosecutor in nearby Gap, said the post-mortem examination indicated there had been no signs of violence against Mr Lewis.
The investigators are still waiting on the results of drugs tests, which are expected to take several days.
After they are released, Mr Balland said the investigation into Mr Lewis's death would be closed.