Home of killed man ransacked by thieves in Coventry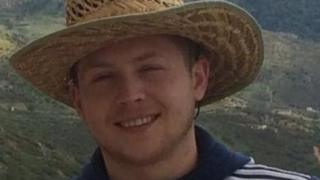 Thieves have ransacked the flat of a man killed in a car crash.
Jordan Howell, 25, died early on 11 January when the car he was in hit a tree in Binley Road, Coventry.
Items including clothes, furniture, a watch which had belonged to his grandfather and a replica World War one medal from his great-great-grandfather are thought to have been taken.
Jordan's mother Jennie Jordan said the family had not been able to "grieve properly" since.
The burglary at his Tile Hill home is believed to have taken place between 06:00 GMT on 11 January and 05:00 on 12 January.
Mrs Jordan says the thieves "took everything" and had left the family with "no comfort or memories".
She said: "We just want the people that did this to be caught and brought to justice.
"Jordan was so loved, so generous - he would have given his friends the shirt off his back, his last fiver - just to help them out.
"That's what makes this even harder to bear."
Police said they were investigating the burglary and urged anyone with information to come forward.
The crash left a second person who was in the car in a critical condition in hospital, while a third was treated for less serious injuries.