Olympian Beth Tweddle opens new Coventry gymnastics club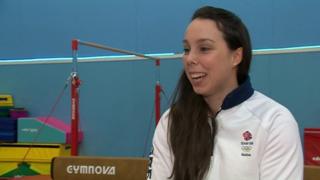 Olympian Beth Tweddle has opened Coventry's first dedicated gymnastic club.
Ready, Steady, Gymnastics has moved to multiple venues and faced months of set backs and planning problems.
It started two years ago with equipment being kept in a trailer before finally being able to use Saint Augustine's Sports Centre in Radford.
Head coach Sophie Gregory said she wants all children to have the chance at trying the sport.
"I really wanted to go in with the ethos that all children can participate in gymnastics and they all should feel valued, they should all feel good enough and it should be fun as well.
"I fell out of love with gymnastics and I don't want children to do the same.
"We've really focussed on an environment that's really happy."
Former world champion and Olympic and Commonwealth Games medallist Tweddle said as the profile of the sport has increased in recent years, it was important children could get access to facilities like this.
"To see clubs like this popping up around the country, you can see the enthusiasm form the coaches and also I've seen some of the young children training today and they're just all smiles. That's what it's all about," she said.
The club started in 2015, but Ms Gregory said it had "taken over 14 months of rejection, council planning applications and appeals" to finally move into its new base.
"It looked like we had a facility to call home which, at the last hour, also fell through - literally the day before the install - due to the freehold.
"Nevertheless, we persisted and were presented with the opportunity of moving into Saint Augustine's Sports Centre which we can now call home for many gymnasts of Coventry," she added.