Kenilworth station to open at end of April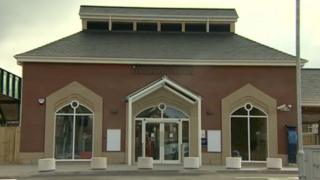 Kenilworth station is to open its doors to passengers on 30 April.
More details about timetables and ticketing will be made available later, but Warwickshire County Council said it had agreed the start date with West Midlands Trains.
Residents had been told the station would open in 2016.
Richard Dickson, of Friends of Kenilworth Station, said his excitement at the opening was muted as residents had waited so long.
"And it is only an hourly service that doesn't run on Sundays," he said.
"But I for one will be catching it to work every morning."
Why has it taken so long?
Kenilworth Station closed during the 1960s, part of the Dr Beeching cuts. For more than 30 years campaigners tried to get it reopened citing the town's population of 22,000, its thriving night-time economy and its tourist-attracting historic castle.
Michael Coker, resident and town councillor for many years, said he went to a Strategic Rail Authority meeting in the early 1990s and was told the return of rail to Kenilworth was not a question of 'if' but 'when'.
"We await 'when' anxiously," he said recently.
Mr Dickson said many residents had experienced F.E.A.R - frustration, embarrassment, anger and resignation.
"We were first promised it would be open by December 2016, then we got another date, then another and here we are," he said.
"It is embarrassing. We are supposed to be encouraging better use of public transport."
In December, a war of words between Warwickshire County Council and the government was triggered when the council appeared to blame the Department for Transport (DfT) for the delay.
The council said the site was complete but had been told by the DfT neither trains nor drivers could be supplied until February.
Monica Fogarty, joint managing director at the council, said the authority had "worked around the clock to get the station ready".
"The [DfT] is unable to supply the train and drivers in order to meet the December opening date, and this is beyond disappointing for the people of Kenilworth," she said.
The DfT responded saying the council was to blame for delays and the station was not ready for service.
The council had been unable to obtain industry agreement from Network Rail, the train operator, to enable the service to start operation, with outstanding issues including quality sign-off and safety assessments, it said.
Meanwhile, operator West Midlands Trains had said it was "ready to roll" with an hourly service at the station.
More recently, contractors have been back at the station working on a range of projects, including handrails and raising the height of walls.
Ms Fogarty said the council had learnt that even when it gets specifics right in the first instance, there will still be changes and adaptations that cause delays.
On 12 April, Ian Prosser, HM Chief Inspector of Railways Office of Rail and Road, announced he had authorised the use of the station.
Mr Dickson said now the Friends of Kenilworth Station would be campaigning for a more frequent service.