Daniel Pelka: Gathering in Coventry to remember murdered boy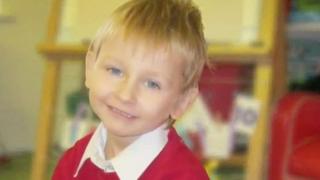 People are paying their respects to a young boy who was murdered six years ago.
Four-year-old Daniel Pelka was starved and beaten for months before he died at his Coventry home as a result of a head injury, on 3 March 2012.
The Justice for Daniel Pelka Facebook group organised the gathering on Saturday at Daniel's memorial in St Paul's Cemetery, Holbrooks.
People laid flowers and stood in quiet reflection at the site.
Organiser Nicola Astim, 41, of Coventry, said: "Dozens of our members still turned up despite the weather to remember Daniel.
"It's important that we don't forget what happened to him. I know so many people were affected by his story and that nobody saved him.
"Someone should have saved him, that's why we keep coming here and keep thinking of him."
The Facebook group raised more than £1,500 for Daniel's headstone in Poland, where his body is buried. Members regularly send flowers to the cemetery, marking what would have been his birthday.
Ms Astim added: "We have more than 6,000 followers on Facebook, that shows how much people care and how determined we are to make sure as much as can that this doesn't happen again."
Originally from Poland, Daniel's mother Magdelena Luczak, then 27, and her boyfriend Mariusz Krezolek, then 34, subjected him to an abusive ordeal that lasted more than six months.
They were convicted of murder and jailed for 30 years. The pair have since both died in prison.
Daniel weighed just over a stone and a half when he died.
A serious case review following his death found that he was "invisible" at times and "no professional tried sufficiently hard" to talk to him.