Mother of death crash boys thanks Coventry community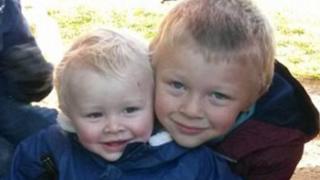 The mother of two boys who were killed while crossing the road has thanked the community for its support.
Corey, six, and Casper Platt-May, two, were on a trip to a park in Coventry when they were run over on 22 February.
Louise Platt-May said she could not bring herself to talk about what happened to her sons, but that she was "overwhelmed" by the community's help.
A donation page set up to help the family cover funeral costs has amassed almost £25,000.
Posting her message of thanks on Facebook, the boys' mother said: "I would like to say a massive thank you for all the support we have got this past week.
"All the flowers, cards, teddies, money, messages, food and so much that people have done for this family.
"It's very overwhelming but I appreciate it all."
Corey and Casper were with their mother and a group of up to nine children being helped across Macdonald Road in the Stoke area of the city when they were struck.
They were taken to hospital with severe injuries but Casper could not be revived and died a short time later.
Corey was rushed into surgery, but later died.