Man United star's signed shirt gift to Coventry death crash family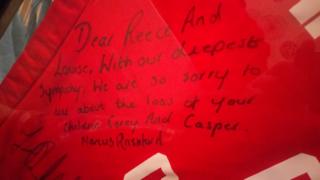 A signed Manchester United shirt has been sent to the family of two boys who died when they were hit by a car.
Brothers Corey, six, and Casper Platt-May, two, were run over in the Stoke area of Coventry on 22 February while on their way to the park.
The boys' father Reece Platt-May, 30, said the shirt, signed by Marcus Rashford was "a great surprise".
Rashford wrote on the shirt he sends his "deepest sympathy" and is "so sorry" for the family's loss.
The striker later tweeted "it was the least I could do".
Mr Platt-May responded on social media saying "your kind words on the shirt brought a brief smile to my house".
"The boys are Man United fans, but my eldest supports Liverpool, like his mum," Mr Platt-May said.
"I hope to hang it [the shirt] on the wall, but with my wife being a Liverpool fan, I'm not sure."
A memorial service open to "anyone and everyone" is being held at Coventry Cathedral on 19 March with well-wishers asked to donate to The Air Ambulance Service who helped at the scene.
He said: "There's been so much support and love from Coventry and beyond, we've had messages from Devon, Australia, it's been overwhelming.
"We wanted to do something to show much love there is for them and to give back to everyone who gave to us."
The 30-year-old father said the family was "plodding along" and "coping".
"Me and my wife have both got huge families, they're giving us all their love."
A 53-year-old man and a 41-year-old woman have been charged with causing death by dangerous driving and will appear at Warwick Crown Court later this month.
The man is also charged with driving while disqualified and without a licence or insurance.