Pilot 'battered wife to death with saucepan' in Knightcote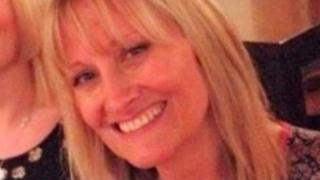 An airline pilot battered his estranged wife to death with a saucepan and then visited the pub, a court was told.
Andrew McIntosh, 54, told police he "lost control completely" after he left Patricia McIntosh with fatal head and facial injuries.
The nail technician was found dead at the couple's former marital home in Knightcote, Warwickshire, on 15 November.
Boeing 737 captain Mr McIntosh is appearing at Warwick Crown Court.
The pair had rowed after Mrs McIntosh refused to lower the asking price of their former marital home amid divorce proceedings, the court heard.
The defendant from Woolscott, Warwickshire, used his feet in the attack and admitted to police he "smashed" his wife with a saucepan, the hearing was told.
He then did nothing to summon help following the assault and left her to visit a public house.
Consumed with rage
Prosecutor Peter Grieves-Smith said jurors would have to decide if Mr McIntosh, who worked for travel firm TUI, was suffering an abnormality of mental function at the time.
The lawyer told a jury the defendant "accepts that he unlawfully killed Patricia McIntosh and accepts that when he did so he had a murderous intent."
Opening the case, Mr Grieves-Smith said: "The prosecution say he was consumed with rage when he attacked her and he intended to kill her.
"He couldn't control Patricia McIntosh - he couldn't accept that she would not do as he wanted or said.
"The defendant's case is that he is guilty of manslaughter by reason of diminished responsibility."
The trial continues.