Property auction boosts Cumbria council coffers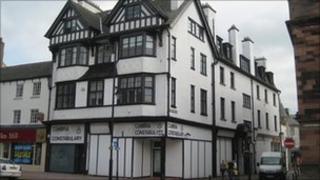 Cumbria County Council has raised a total of more than £1m from the sale of surplus buildings.
Carlisle's Citadel Chambers, the former county council offices and home to the police since the 2005 floods, was among those under the hammer.
Others included a former highways depot, a telecommunications mast site and empty school buildings.
Of the auction of nine lots, only one, Harrington Infants School in Workington, was left unsold.
Councillor Stewart Young, deputy leader of the county council, said: "I am delighted that we have raised over a £1m through the sale of these properties.
"As well as the immediate benefit of this money being returned to the council's resources, we will also be saving money in the long run as we will no longer have to spend on maintaining buildings that are surplus to requirements.
"The sales make sense for Cumbrian taxpayers and an important step in our on-going review of council-owned properties around the county."